Below is an overview of the three Jibetech eras in this competitive class, or you can learn more about our new Snipes.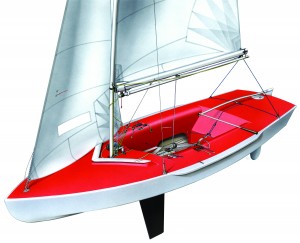 1989 – 1997
When Jibetech first entered the class, McLaughlin Snipes set the standard with their teak splash rails, transom openings, and tan decks. Jibetech's low-windage rails, custom stripes, and complete lack of teak stood out in the parking lot and on the race course. The deep cockpit also provided a more "in the boat" feel for skipper and crew. Ed Adams/Nancy Haberland won the 1991 Nationals in a Jibetech, Andrew Pimental/Carol Newman finished 2nd at the 1992 and 1993 Nationals, and Doug Clark/Alex Stout won the 1993 event. A new era in the sixty year old Class had arrived.
1998 – 2004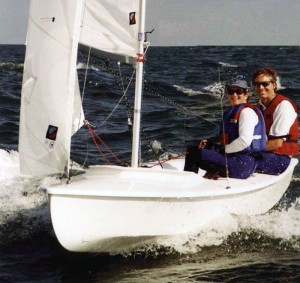 By 1998, the Jibetech molds had produced almost forty boats for fleets around the world and were in need of an update. After consulting with crews tired of the "firehose reach," skippers looking for something a bit easier to steer downwind, and naval architect Paul Cronin, Andrew built a new set of molds. While the hull boasted wider chines and a fuller bow, the most obvious change was a rail that ran the entire length of the boat. Not only did crews stay drier but the boats were much easier to pick up and load on a trailer. And in 2003, Andrew celebrated his fourteenth year in business by winning the Nationals with crew Kathleen Tocke.
2005 – present
Jibetech has built more than 130 Snipes and is currently the only US builder. Innovations in rigging and cosmetics, such as an improved range in jiblead adjustment and a carbon fiber splash rail, have helped the Class transition into the 21st century. In 2008, the molds were again upgraded to maximize the width and depth of the chines.
In addition to building Snipes, Andrew continues to race them. At the prize giving of the 2009 Nationals (where with crew Julia Marsh, he finished eighth), Andrew was presented with poster signed by competitors celebrating his 20th anniversary as a builder. "I look forward to this regatta every year," he responded with his trademark grin. Even for those in the industry, the Snipe class continues to set the standard for Serious Sailing, Serious Fun®.